GOONJ : Your Concerns, Our Voice
Goonj is a media company founded with an aim to help society by empowering them and give them a media platform which would be their own and where they can raise their own concerns, through our voice. Our recently launched Goonj FM 90.8 with entertainment also covers a range of issues such as women empowerment, urbanization & employment, health and sanitation; we're also a platform for creative expressions of children and budding artists of the city.
Other ways we are making a strong impact on society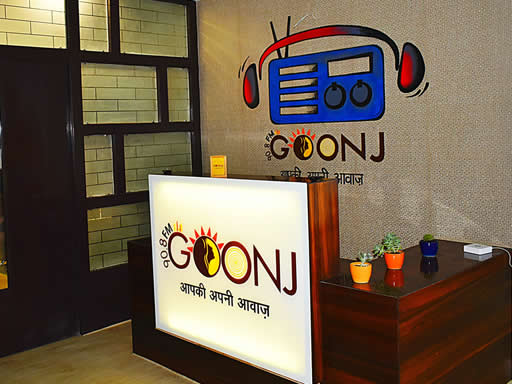 Goonj FM 90.8 @ Gwalior - LIVE
Goonj FM 90.8 is now entertaining and educating in Gwalior. You can listen to Goonj Radio live around the clock and enjoy its unique content, programs and series.
Goonj RJ Courses - Admission Open
We are inviting applications for certification courses in radio jockeying in Gwalior. We also provide courses in radio production, creative writing, digital world & sales.
Our Latest Magazine Edition
"गूंज FM का भव्य शुभारम्भ"
इस संस्करण में शामिल मुख्य समाचार...
• सुलझेगा काशी का मंदिर-मस्जिद विवाद?
• ताजमहल के बंद 22 कमरों का रहस्य
• हिंद प्रशांत क्षेत्र में किसी भी एक तरफ़ा कार्यवाही के खिलाफ है क़्वाड
• कोरोना के बाद अब मंकीपॉक्स से दहशत
• यह हुई थी शून्य की खोज
Recent Events
Launching FM 90.8 - Aapki Apni Awaaz
Goonj celebrated the launching ceremony of Goonj FM 90.8 @ Gwalior under presence of our honorable chief guest Shri Narendra Singh Tomar ji, Cabinet Minister, Government of India.
On this occassion, our director Ms. Krati Singh explained how the Goonj team is working hard to make an impact on common man's life and help people in raising up their voice and get heard..